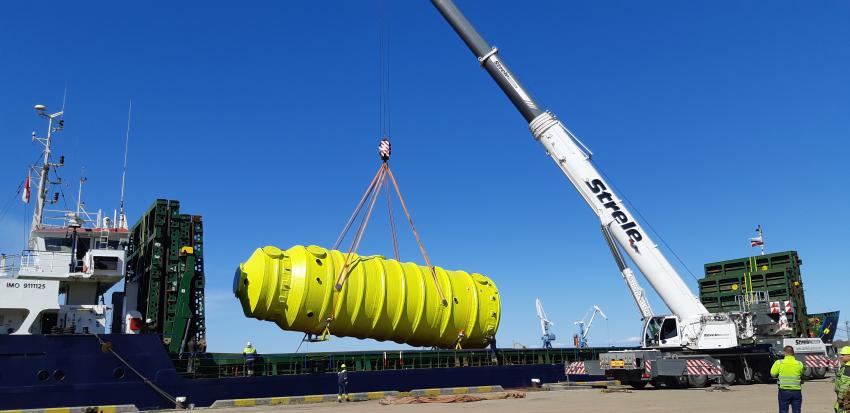 Since 2020, the company "Baltic Industrial Composites" has been successfully working and developing production in the territory of the Port of Riga in Bolderāja, producing and exporting bulky fiberglass structures, and thus contributing to the overall cargo turnover of the Port of Riga. Manufactured structures are exported by sea to the Scandinavian countries, but also to other European countries, the USA, Colombia and Mexico.
Gints Briedis, the CEO of the port company, admits that the company's competitiveness is based on its location in the port area, which makes it possible to transport large structures by sea, which is cheaper and cost-efficient. Another factor - highly qualified employees trained by the company, consistently fostering high quality products. "We have successfully achieved the strategic goal that we had set when establishing the company - to start the production of bulky products in the port area. The main pillar of our competitiveness is our ability to manufacture fiberglass structures of any size and ensure their cost-efficient transportation. Now the main objective is to invest in employees - in improving their qualifications and working conditions. In terms of quality, we cannot compromise, and since there is a lot of manual labor in the technological process, quality assurance largely depends on the qualifications, skills and attitudes of employees", emphasized Gints Briedis.
"Baltic Industrial Composites" fiberglass structures are used in the chemical and oil industries, as well as in metallurgy and energy sectors. The product range includes custom-made fiberglass tanks, reservoirs and reactors used in air and water treatment plants, as well as for the storage and transportation of chemicals and various aggressive gases. "Baltic Industrial Composites" bulky products are exported by vessels from the berths of the adjacent cargo transshipment company SIA "WT Terminal", increasing the total cargo turnover of both the stevedoring company and the port. This type of synergy between manufacturing companies and logistics service providers forms the unique competitive advantage of the port as a business and investment location.
"We realize that more companies are choosing to open and develop production facilities in the territory of the Port of Riga, making the port a high value-added industrial cluster with powerful logistics service providers, modern production facilities, innovation and research centers. The companies, located in the port can boost their competitiveness by optimizing the product logistics, while the port can benefit from the production development maintaining stability of cargo turnover, jobs and revenues in the long term", said Ansis Zeltiņš, the Freeport of Riga CEO.
The commercial cluster of the Freeport of Riga consists of about 200 companies, including 36 stevedoring companies (cargo handling terminals), production facilities, warehouse companies and providers of various port services. The Freeport of Riga business cluster provides jobs for more than 4000 employees.