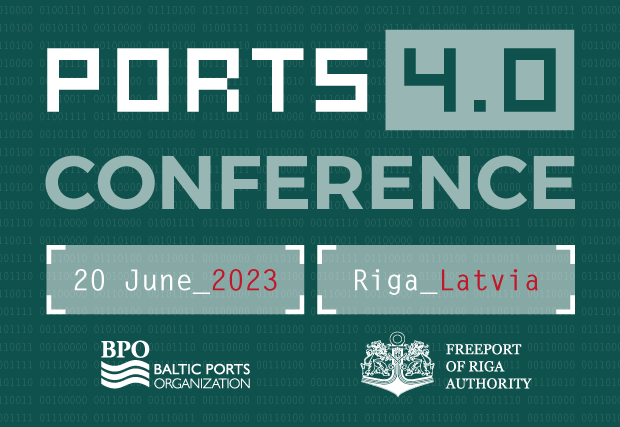 BPO Ports 4.0 Conference – digitalization in the focus of the maritime sector
20 June 2023: Freeport of Riga Authority Conference Centre, Riga, Latvia
---
Overview:
Improving communication, security and data management, digital twin ports, sea and land traffic management system – this and more will be discussed during the upcoming, third edition of Ports 4.0 Conference organized by the Baltic Ports Organization (BPO). Be a part of this valuable industry meeting held in Riga, Latvia on June 20th. Participation is free of charge.
Year 2023 is being gradually filled with many events from the maritime sector. Ports 4.0 Conference is one of those worth attending to get the latest scoop on what will drive the industry forward in the near future. Digitalization sounds like an inevitable direction of ports development. How to carry out this (r)evolution considering costs, time and environment? Join us in Riga and find out!
What topics will be covered?
'Optimizing operational efficiency through asset and process digitalization" – this is the theme of this year's edition of the Ports 4.0 Conference.
How can ports improve communication, security and data management?
Are digital twin ports just costly toys or valuable support tools?
What goes into designing an expansion-ready, flexible traffic management system?
These are just some of the questions that our speakers and panelists will face during the event. We will take a closer look at, among others, notable examples from various ports: Oslo, HaminaKotka, Antwerp-Bruges, Esbjerg, Gävle, Bergen, Tallinn, Riga and Rijeka.
---
Conference programme and registration:
For more information please contact BPO Secretariat: bpo.office [at] actiaforum.pl
---
About Baltic Ports Organization
The Baltic Ports Organization is a regional ports organization inspiring and supporting its members while cooperating pro-actively with relevant partners. BPO was established on October 10, 1991, in Copenhagen, with an aim to facilitate cooperation among the ports and to monitor and improve the possibilities for shipping in the Baltic Sea region.
Development over the past years has proceeded very quickly and at present BPO has entered a new, challenging and exciting phase. Currently, the organization is comprised of 49 members representing the most significant ports and stakeholders in the Baltic Sea region. BPO is well-recognized within the BSR, in EU bodies and other European regions.
The organization's mission is to contribute to economic, social and environmentally sustainable development of maritime transport and the port industry in the Baltic Sea region, thereby strengthening its global competitiveness.